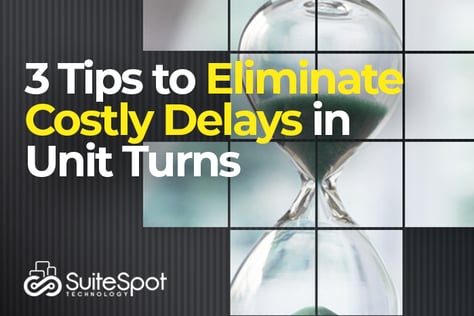 Time is of the essence during unit turnovers, which means the pressure is on from the moment you learn that a resident has given notice to vacate their unit. Since every delay means more time off the market and less revenue in your coffers, it's crucial to understand when (and where) the most common setbacks can occur.
Unfortunately, the unit turnover process is vulnerable to slowdowns at every stage, so even the smallest miscommunication or mistake can generate additional costs and delays. For example, SuiteSpot's recent research shows there's a 19% chance that a unit will miss its target move-in date if not inspected within 24 hours after turnover completion. That's an easily preventable mistake that can cost thousands of dollars. To compound the error, a typical portfolio of 10,000 units experiences a staggering $2 to $3 million of NOI losses from inefficient turnovers every year.
You probably already have some sense of where your turnover process is going awry. Remedying delays in the unit turnover process requires stronger collaboration and communication. Improvement hinges on accurate pre-move-out inspections, enhancing the scoping and quoting process, and upgrading how teams monitor their workflows. It also means equipping teams with the tools and skills to navigate speed bumps such as scope changes due to site conditions or scheduling changes, approval delays, vendor issues, or unanticipated deficiencies.
While this sounds complicated, the good news is that just a few specific changes can improve your whole process. If you're looking to keep your unit turnovers on track and budget, here are some strategies to improve your unit turnaround times:
Enhance your inspections
A lot rides on the first pre-move-out inspection, when your staff identifies key repairs or replacements and defines the full scope of the turnover. Just one small mistake or missed element can disrupt the process. Getting the job done quickly is important, but so is making sure inspections are thorough and error-free. That's why it's important to consider whether your team can leverage a library of automated and standardized processes, pre-built inspection templates and catalogs, and real-time updates.
Scope smarter
Comprehensive and timely scoping and approval are the most important elements of the unit turnover. According to our research, in 62% of turnovers, time is added due to delayed decisions; jobs with scope changes take 56% longer. That can all be prevented with digital inspection templates that walk your employees through each room, asking a series of questions based on each asset's condition.
Stagger your move-outs
Scheduling lease expirations for the same time every month (for example, at the end of each month) sets teams up for bottlenecks and stress. In some cases, teams have only one day to get a unit ready; when you have a queue of turnovers, it's almost impossible to meet your deadlines. That not only puts pressure on your team (and we all know that staff turnover is an industry issue), it means you're not collecting rent. By renting units as soon as they are ready and not forcing occupancy from the first of the month, inspectors and vendors have more breathing room to get things done and more time elsewhere to tackle the maintenance backlogs resulting from residents staying put during the pandemic. As an added bonus, your staff will have a steady flow of turnover work during the entire month, as opposed to one frantic week.
Trust your tech
There are many ways technology can transform the unit turnover process. (Don't miss our white paper, How Modern Multifamily Property Owners and Operators Increase NOI and Revenue with Digital Turnover Solutions.) "Deskless" mobile inspection apps automate and standardize initial walkthroughs to ensure nothing falls through the cracks. If something does, you'll want to choose an app that alerts you in real-time if there's a delay or issue requiring attention.
If your maintenance techs are like most, they want to do their turnover work without worrying about managing the process. An app that tells them what needs to be done, when it needs to be done, and where it needs to be done takes pressure off of everyone as they no longer need to come up with their own methods of organizing their outstanding work. All told, upgrading your process adds greater efficiency, collaboration, and accountability—and that lowers cost and improves performance.
As we all know, the clock is ticking from the moment a resident gives their notice. Anything that expedites and enhances the turnover process means less time off the market and more available team resources for your properties.