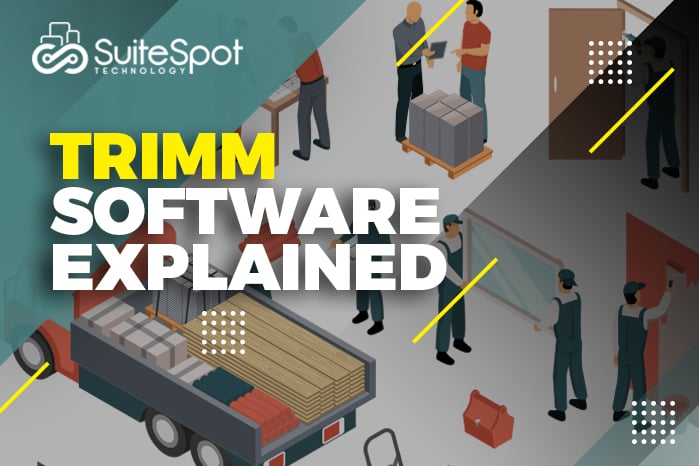 To say property teams are a jack of all trades would be an understatement. From value add renovations to building-wide upgrades, and unit-turnovers to daily maintenance, multifamily teams must be a jack of all trades and a near-master of each and every one.
These are high expectations. Yet, in an industry challenged by constant competition, market trends, and increased resident expectations, there is constant incentive to make the grade. The upside is that property management teams now have access to digital tools and innovations that can make their jobs faster, more efficient, and less costly than the legacy methods.
Enter: TRIMM software, a technology designed to streamline and simplify multifamily housing operations within a single digital platform. Leveraging digital tools and mobile tech, TRIMM software is designed to unlock efficiencies and savings across Turnovers, Renovations, Inspections, & Maintenance Management, among other critical processes (aka the TRIMM process). Moreover, it is a tool through which users can track and assess asset performances across entire portfolios.
How it works for multifamily property owners and operators
TRIMM software is an all-in-one unit turnover and property operations mobile platform. Using mobile devices connected to a singular, back-office platform (in most cases, Property Management Software) TRIMM software equips teams with the digital tools to tackle mobile inspections, vendor engagement and procurement, work orders and approvals, preventative maintenance, alerts and escalations, and other critical steps in maintaining a property. Furthermore, TRIMM software can be fully integrated into existing property management systems.
TRIMM software's advantages stretch beyond the final move-out. By collecting and analyzing data from any number of inspections, TRIMM platforms produce easy-to-digest reports that provide property management teams with critical operational real time insights. These can then be used to measure a team's performance across any TRIMM process and set benchmarks for ongoing improvement.
By the numbers: In a study of 10,000 unit portfolios, TRIMM software was shown to unlock up to $3M in recurring annual savings and unlock up to $60M in asset value improvements >> View the findings here
Made for the entire property management team
TRIMM software is designed for use by every stakeholder within a multifamily property. In the field, that includes maintenance specialists who can use it to log, track, and manage day-to-day jobs via their mobile devices and access critical resources (e.g. work orders, inspection documents, resident communications, vendor order entry) in real-time; as well as third-party vendor's team members, who can use it to provide quotes, schedules, and communicate work status.
Behind the scenes, TRIMM software is also leveraged by back-office professionals who can leverage tools built-on AI, data analytics, and user-friendly dashboards to track and manage their day-to-day operations.
In short: cloud-based tech blending a consumer front end for ease and flexibility required for field use and a strong deep enterprise backend to provide the stability security and necessary integrations.
Under the hood
The key to TRIMM software is simplicity. Using the latest in automation, artificial intelligence, and data analytics, the technology exists to streamline multifamily operations. What does that look like in the field? Here are some examples:
Accelerated Turnovers: If there's one word that characterizes the typical unit turnover process, it would be "chaos." Between delayed decisions, vendors, inspections, and critical timelines, the unit make ready process can be needlessly long (not to mention costly). Managing this process through TRIMM software enables teams to establish, share, and track property management workflows and address scope changes and delays in real-time.
By the numbers: In a SuiteSpot study of over 50,000 traditional unit turnovers, 57% experienced scheduling errors, 56% were subject to delays, and a 62% experienced setbacks as a result of delayed decisions.
Advanced inspections: The days of pen and paper are numbered. Using property inspection apps connected to TRIMM platforms, inspectors can access pre-made dynamic templates, document, and store digital evidence, and communicate with their teams and vendors with a few simple clicks. Moreover, TRIMM software can be used by property management teams to aggregate and assess inspection results across multiple properties and time periods, allowing teams to establish benchmarks for ongoing improvement.
End-to-end workflows: Processes run smoother when everyone is in sync. To that end, TRIMM software can be used to create and automate unit turnover workflows that are unique to each users' business. From the first notice to vacate to move-in ready, TRIMM software is used to track and manage every moving part in the make ready process.
Faster approvals: Research shows 35% of unit-turnover projects do not have their purchase orders costed, approved, and issued by the move-out date, contributing to increased turnover times and extra costs. And while multiple manual data entry, paper-based processes are often to blame, so too are miscommunications, scope creeps, misinformation, and any number of factors that are all but eliminated when managed in a TRIMM platform environment.
By the numbers: TRIMM software facilitates faster approvals and decisions, unlocking approx $450,000 in savings for every 10,000 units under management.
Chargeback control: Chargebacks are critical to protecting your asset, but trusting the chargeback process to paper-based process open the door to missed opportunity. Here is where TRIMM software can ensure chargebacks are being properly documented and effectively recovered.
By the numbers: TRIMM software enables approx $235,000 in savings through effective chargebacks for every 10,000 units under management.
"Smarter" budget management: TRIMM software provides real-time data, audit trails, reports, and document management tools to wield greater control over maintenance expenses.
Paper-freedom: Paperwork stacks and file cabinets may have been the "way things were done," but that doesn't make them the best solution. TRIMM software enables teams to create, manage, and store digital documents (e.g., work orders, invoices, inspection reports, maintenance requests) in a secure digital environment. This ensures documents are accessible to everyone who needs them anytime, anywhere and are safe from loss or human error. Moreover, working with digital documents means reduced costs in terms of document storage and processing.
By the numbers: TRIMM software can help eliminate up to 4 hours of administrative work, and contribute to $360,000 in savings for every 10,000 units under management. The paperless process and compliance can also help save $750,000 for every 10,000 units under management.
Better Benchmarking: It pays to have a birds-eye view of your operations. TRIMM software helps collect and assess key performance indicators (KPIs) such as material costs, timelines, labor expenses, and any number of factors across individual properties or entire portfolios. The result is valuable insights into each TRIMM process that provide stronger, more cost-effective strategies and benchmarks – both in regards to the make-ready process and maintenance activities.
Team transparency: Property management teams can't afford to work in silos. Effective unit turnovers rely on maintenance staff, vendors, and back-office teams being on the same page on the same book at every step along the way. Herein, TRIMM platforms leverage cloud-computing and secure data storage to link documents, workflows, and communications across every TRIMM process. This adds greater transparency, accountability, standardization, and collaboration throughout the entire make ready and maintenance processes.
By the numbers: Optimizing job schedules through TRIMM software saves an average of approx $800,000 annually for every 10,000 units under management.
Happier staff: Simply put - more control, transparency, and efficiency simply make life easier for all property management professionals allowing more time to focus on the property and provide a better resident experience.
Property management technology is advancing at break-neck speeds. At the forefront are TRIMM platforms that take advantage of Big Data and the latest innovations to upgrade every facet of a team's operations. And while there's no replacing the "human touch" when it comes to keeping your front line staff productive and your residents safe and satisfied, there are serious benefits to upgrading the TRIMM process.
Want to learn more about how much a more effective TRIMM process can save your company? Use our cost calculator to find out.