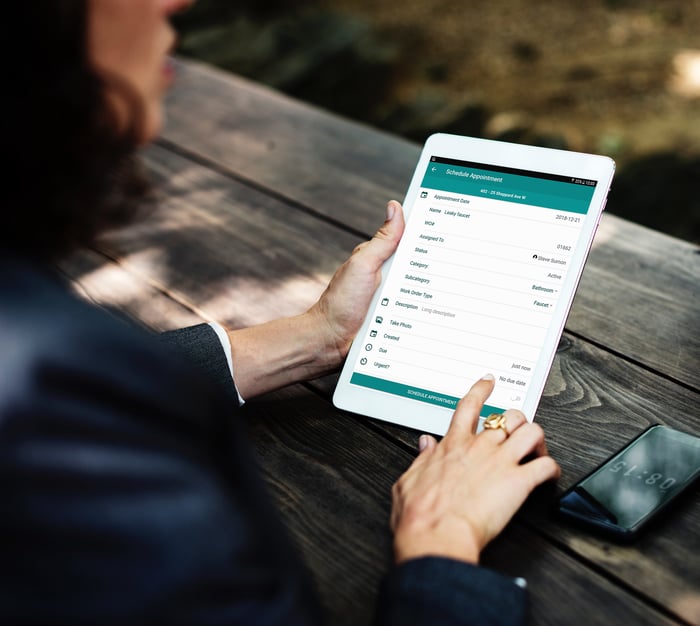 Performing property inspections using paper checklists and forms have been the "go-to" method of property inspectors for decades, but that doesn't mean that they're perfect. Far from it.
While it's relatively simple to fill out those forms on site, actually managing those records can cause issues for property managers further down the line. Paper forms are easy to lose or damage, difficult to correct, and are challenging to compile into a useful report.
Property inspection apps have emerged as a much-needed alternative. In this blog, we'll explain what they are, how they work, their top features, and more.
What are mobile property inspection apps?
Mobile property inspection apps make it easier for property inspectors or managers to do their jobs effectively without having to scribble notes onto a paper form and juggle hundreds of inspection documents for different properties.
Inspection apps generally fall into two categories:
First, you have simple checklists that lives on your staff's mobile phones. Your inspectors use these unit inspections apps to record their findings in both text and picture format as they visit your properties, just like filling out a paper form (but with less waste).
The second category involves apps that are part of a connected system. The mobile app is integrated with the software in your main property management office. This allows data to be instantly uploaded to a central location, and allows for easier tracking of inspections and site visits. More comprehensive property management apps even let you track repairs, work orders, and more.
How do unit inspection apps and software work?
In most cases, a mobile property inspections app will have a library of checklist templates that you can use for different inspection types, such as move-out inspections, move-in inspections, and complete property inspections. The depth and customizability of these checklists depends on the specific digital property inspections solution that you buy.
These property inspection templates can then be accessed by field staff from their mobile device and used on an "as-needed" basis. We recommend sticking to apps that allow you to document photo evidence and capture miscellaneous notes, to ensure thorough documentation. Property inspection apps also differ in terms of battery consumption and internet connectivity requirements, so keep that in mind if staff will be in the field for extended periods of time or in remote locations.
The best apps can integrate with your own work order system for faster and more reliable transfer of information. This results in you having an easier time orchestrating inspections and conducting preventive maintenance, move-outs, or repairs, with the added reassurance that your information is up-to-date and complete.
The integration also serves to help summarize inspection information from all properties in your portfolio into a real-time dashboard. Use this dashboard to assess employee performance, common property damage or issues, and more.
Learn about the benefits of property inspection apps.
What are the benefits of using mobile apartment inspection apps?
Property inspection apps do more than simply take notes. They offer solid benefits for everyone involved.
For staff, apps can:
Reduce errors
Speed up the inspection process
Remove the possibility of losing inspection documents
Reliably collect photo evidence of property damage, conditions, or hazards
For property managers, rental property inspection apps can:
Increase transparency with the head office
Enable better data management and analysis
Facilitate comprehensive and accurate property reporting
Protect against liability claims
Provide more useful resident chargeback documentation
For property owners, unit inspection apps can:
Ensure assets are being inspected on a regular basis
Enforce mandatory inspection requirements
What are the top mobile inspection app features to look for?
Every mobile inspection app you consider should have the following basic features:
Customizable templates of inspection items for specific units and buildings
Photo and video capturing capability
GPS, maps, or similar location-tracking capability
Signature capture
Able to operate without internet connectivity
Apart from the above, your app can also include these nice-to-haves:
Email integration
Alerts and reminders for field staff
Connection to work order system and head office
Battery efficient
Compatible with multiple mobile devices
Staff time tracking
Reporting and analytics
How much does a property inspection app cost?
Pricing can vary depending on the specific solution you choose but tend to follow specific models:
Monthly subscription involves the company paying a fixed amount per month in exchange for an amount of service. The fees may be tiered in such a way that a higher subscription gives you access to more user accounts, more features, more inspections, or all of the above.
Annual subscription is the same as the monthly, except you pay a higher amount up front. Companies that offer annual subscription usually offer monthly as well, but the math works out to be cheaper if you go annual.
Pay-per-usage involves paying a small amount every time you use a specific part of the app. Examples include paying for each report generated or each property inspected.
Pay-per-user models require you to buy a license for each person using the app. These licenses are charged on either a monthly or annual basis, and can sometimes be tiered based on the number of features the user needs.
Free inspection apps do exist of course, but they often lack features and services that larger property management companies need to ensure smooth operation. Things like support, domain expertise, and depth of functionality. Free tools often stop at a mobile checklist without any of the communication, integration, or analysis tools that add value to your asset management workflows.
How do I implement mobile inspections at my properties?
First order of business is to assess your own requirements. What specific problems do you want the app to solve? Do you want a simple inspection app, or are you more concerned with compiling and reporting on data? Include budget considerations in this assessment as well.
Have your requirements list in hand when you start researching vendors. Look for at least three options and when possible sign up for free trials so you can assess the app's capabilities in a live environment.
Before you give staff access to the tool, learn as much as you can about the app yourself so that you can be an internal authority. Get some help or training from the vendor whenever possible. At the very least, the vendor should help you build or test integrations if you purchased those.
Your staff may not take to the app immediately--especially if they've never used one before and are set in their ways. But remind them of the benefits of a digital inspection app and let them see you using it yourself on a regular basis.
If your staff lacks the mobile phones necessary to use the app, consider looking into company-level plans or deals from hardware vendors. Or you could also reimburse them for bringing their own devices. The entire team should be up and running soon enough, and you'll be able to see an instant benefit from transferring to a digital property inspection app.
Learn more about SuiteSpot's robust mobile inspection app.