In the days of COVID-19, it can be hard to plan ahead. This is doubly true for property maintenance professionals who are too busy addressing today's pandemic challenges to prepare for what comes after.
We all know that there will be lots to do in the post-pandemic world. Residents staying home means more wear and tear, and the deferral of non-essential maintenance work by operators is only delaying the inevitable. With fewer team members in the field to manage day-to-day operations, the maintenance "to do" list is only growing.
The invisible backlog


We know this backlog exists from speaking to operators about the way they're handling maintenance during the pandemic, but we also have some hard data.
We've been analyzing the data we've been seeing through our app, and the results are staggering. We used February as our benchmark, since the volume of requests that month was standard.
We dug into the maintenance service data, examining three key metrics:
New service requests
Service requests completed
Cumulative backlog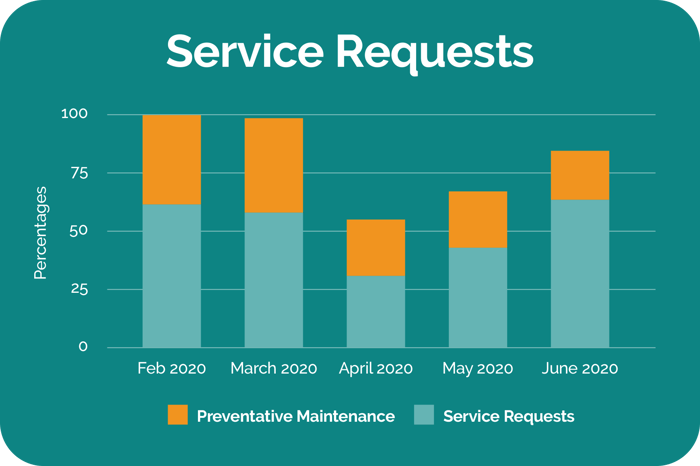 There was more than a 45% drop in service requests from February to April, and while it's recovered, requests are still down more than 20%. Additionally, the percentage of preventative maintenance service requests has been cut in half.
This is not a symptom of less work being required, but more of a confirmation that non-urgent requests aren't being placed, likely because residents are cautious about having other people enter their home for anything other than an emergency. Since people are now home almost all of the time, they're using everything constantly and we'd expect -- under non-pandemic circumstances -- for the requests to go up.
Operators' ability to complete maintenance requests has been even more hampered, with a decrease of more than 50% of February. Even as of June, they are still completing fewer than 2/3rds of the volume of requests.
This, of course, has led to a rapidly increasing backlog: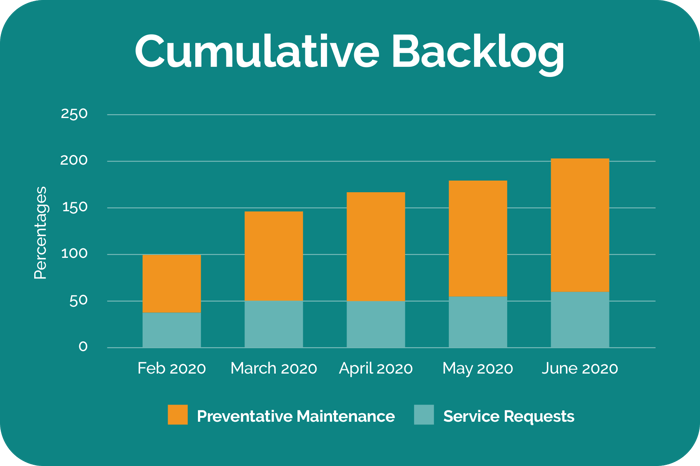 The current backlog of documented maintenance requests has more than doubled, and this not include the invisible backlog of the requests that aren't being made.
So we decided to quantify what is likely the minimum true backlog. We did this by normalizing service requests for March through June, by increasing the requests to February levels.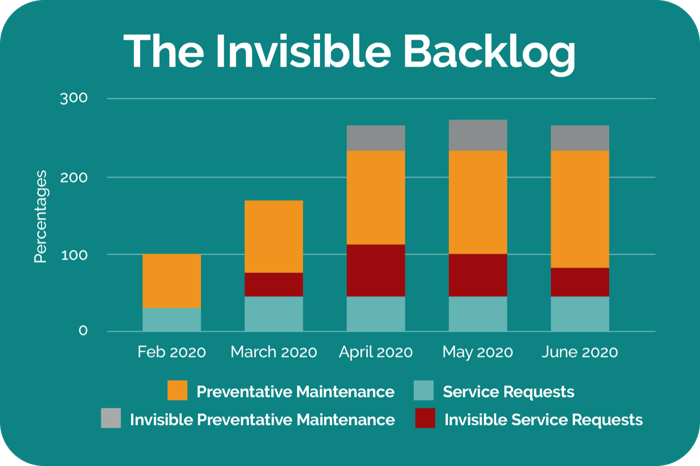 This indicates that the real backlog for operators has increased at a 1.5x rate. This, obviously, is a problem because you don't want your staff to be overwhelmed and also because resident satisfaction is closely tied to prompt and skilled maintenance. (In a recent survey, four of the five top resident complaints concerned the maintenance process.)
Fortunately, some actions can be taken now to keep the backlog from building and prepare to tackle it when conditions improve.
1. Streamline operations
Managing the anticipated surge of post-pandemic maintenance requests will take an advanced degree of organization, communication, and collaboration. That can be difficult for teams that still rely on pen and paper processes. That's why there's value in adopting back-office systems and digital tools that streamline maintenance requests, inform and manage all related stakeholders (e.g., residents, maintenance staff, vendors), and monitor each task until completion. Prioritization and ensuring jobs don't slip through the cracks will be of the utmost importance to avoid frustration for both residents and staff.
2. Catalog your backlog
Property teams must begin to take stock of their post-pandemic priorities now to prevent being overwhelmed. Consider building your "to do" list in advance by giving residents the tools to submit their requests via email, text, or online portals. If you do use a phone system, be sure your staff is trained to troubleshoot to help residents deal with minor problems in the meantime. (More on this below.) In fact, we'd argue that, if you're not seeing a backlog, you should definitely reach out proactively because residents are likely holding requests. A little preparation will help your team plan and prioritize so they get to the most urgent repairs first and can also catch up on preventative maintenance. As a note, you'll also want to put together a communications plan so that residents will be more patient if their minor request isn't taken care of immediately.
3. Touchless solutions
Numerous maintenance activities have been impeded by social distancing guidelines. Moreover, it's more difficult (and riskier) to conduct face-to-face interactions between residents and staff. This where establishing remote and touchless maintenance processes via mobile devices and digital communication channels can keep work on track while observing COVID-19 health guidelines. For example, SuiteSpot's resident self-inspection platform has an easy-to-use interface that prompts residents to provide details and documentation when reporting a maintenance problem.
4. DIY
While maintenance teams may be holding off on non-essential tasks, that doesn't mean residents can't take care of them independently. Use video streaming tools and mobile applications to provide residents with the skills and resources they need to handle more manageable maintenance tasks themselves. This can include do-it-yourself (DIY) video tutorials, online reference guides, or virtual support channels. A few operators we've interviewed have said that residents have told them that being walked through DIY repairs gave them a sense of accomplishment and that they welcomed learning how to do minor repairs and preventative maintenance.
An ounce of prevention




There's a saying in business: Build your well before you're thirsty. In property management, that means embedding the habits and technologies today to make tomorrow's backlog easier to handle. Both your residents and your staff will thank you for it.