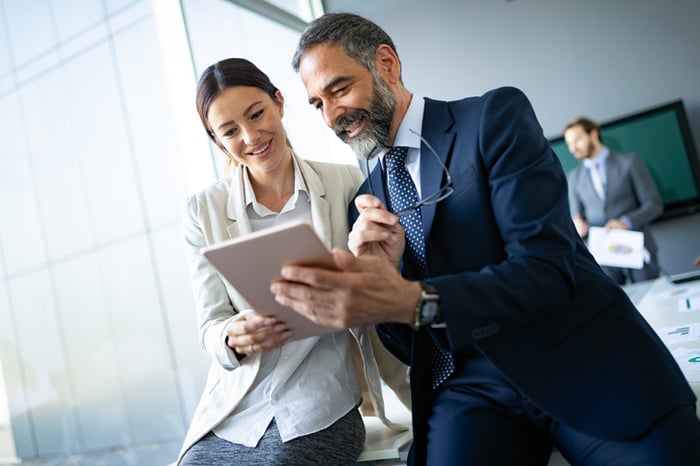 The digital revolution is here, but not everyone is eager to leave old habits in the past. For employers working with non-tech-savvy staff, this can leave opportunities for growth, innovation, and enhanced operations out of reach.
Without a doubt, digital transformation is a near necessity in today's world. Yet while innovative apps and connected tools promise improved efficiencies and more robust collaboration, they remain a hard sell for workers who swear by traditional methods. A recent study from MIT Sloan Management Review and Capgemini Consulting found that, while the vast majority of managers believe that "achieving digital transformation is critical" to their organizations, nearly two-thirds admit that transformation is being slowed by a lack of buy-in and awareness.
Introducing new technology to employees can be a challenge, but it is far from impossible. Here are some tips for introducing apps to a tech-adverse team...
Training
In many cases, employees are reluctant to adopt a new app or piece of jobsite technology simply because they are unfamiliar with how to use it or aren't clear on how it will improve their lives. Employees may also wonder why the company is changing something that didn't seem broken, even if it didn't work optimally. Therefore, it's important to offer hands-on training with new technologies during the initial rollout, and follow-up on a regular basis to ensure both new employees and less techie staff are making the most out of your investment. Remember that everyone learns at different speeds, and the idea of change can be more intimidating to some.
Focus on user-friendliness
You can invest all the funds and training into the adoption of a new app you want, but if it isn't easy to use or requires excessive re-skilling, employees will likely fall back on more familiar methods over time. That's why it's important to choose technology that is simple to learn, straightforward to use, and won't complicate their jobs. Moreover, once you think you've found the right technology, consider running pilot projects to see how they work in the field and collect employee feedback. This will ensure the app or new tools works as it should and that your team feels involved in the decision-making process.
Select flexible technology
Customizable tech sounds ideal--until you realize that making any changes requires the help of professional services or a developer. Often, a better choice is configurable tech that's specifically built to provide flexibility. Choose a robust technology that lets you configure and modify workflows as conditions change. That sort of flexibility means the tech supports the needs of employees, so they are not required to create "workarounds" to move forward with their job.
Sell the benefits, explain the change
How will this new app or technology make your employee's lives easier? How will it make them better at their tasks? How will adopting this new app or technology benefit the company and, in turn, generate more business for all? Providing clear answers to these questions for your employees, and selling them on the advantages, will go a long way towards easing initial reluctance and increase buy-in from the start.
Enlist technology champions
Employees are more likely to adopt new technologies if they see their colleagues doing the same. As such, there's a benefit to selecting workplace "influencers" who can use the new app or technology well and champion its adoption to their peers. These technology leaders can also serve as additional trainers and on-the-job coaches who can be a vital resource when issues or adoption challenges arise.
Favor collaboration
Projects thrive on team members' ability to share data, insights, and ideas in real-time. For example, the unit turnover process at a multi-residential building requires inspectors, property managers, owners, and third-party vendors to stay in touch and get the space ready for the next resident as quickly as possible.
As such, when selecting new technology, look for tools that will enable real-time collaboration – be it by sharing information via the cloud, linking field data to back-office systems, or enabling workers to be in constant communication with their team.
It's a point, click, cloud computing world. When these tips for training are combined with stronger change management support and a focus on user-friendliness, the odds of adoption will be in your favor.