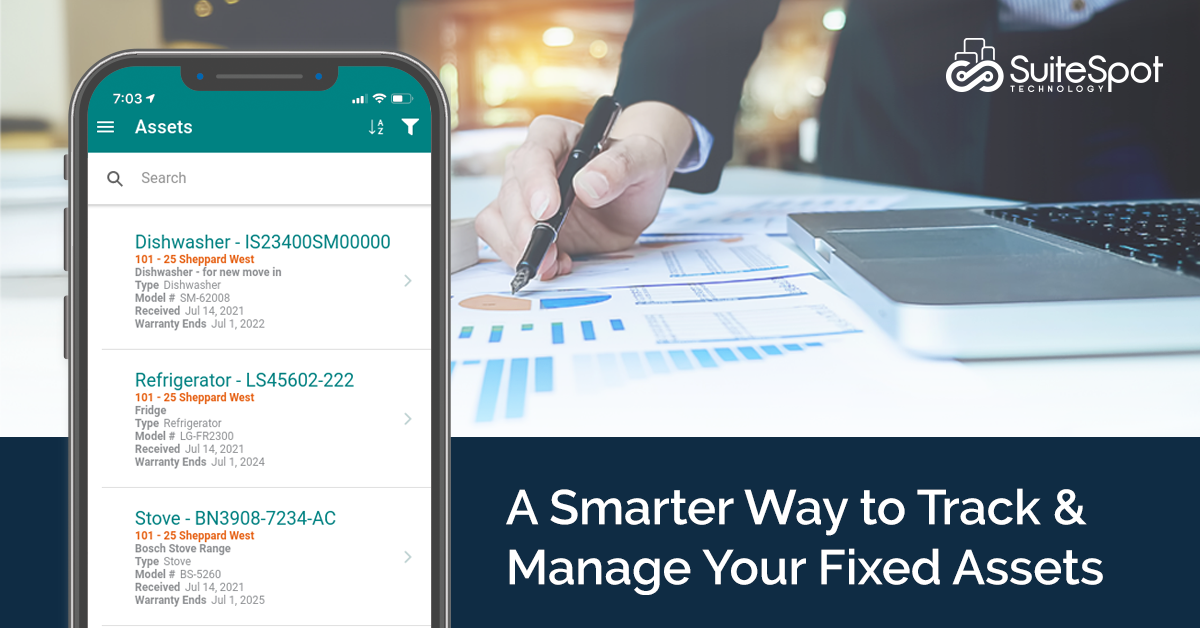 Keeping tabs on fixed assets, like appliances and equipment, can be a chore. Multiply that chore by numerous properties, and one can see why multifamily operators are constantly pursuing more effective and time-saving solutions.
Introducing SuiteSpot's Smart Asset Tracking™. Developed for the SuiteSpot TRIMM™ platform, Smart Asset Tracking™ lets operators and maintenance staff track the location, maintenance history, and warranty status of any serialized asset in real-time, including appliances, furniture, building equipment, mechanical systems, tools, and more.
"We've heard so many stories of operators paying for repairs when equipment is still under warranty and knew there had to be a way to provide this information to technicians in the field through our mobile app." says Elik Jaeger, CEO of SuiteSpot Technology.
Up-to-the-moment visibility into asset status and inventory has many advantages. Beyond giving building teams a heads up regarding anticipated repairs and end-of-life replacements, it lends to stronger strategic procurement and provides the historical maintenance data required to manage asset warranties.
For example, says Jaeger: "You may have a resident report that their refrigerator isn't working. With the Smart Asset Tracking™ , the property manager can take that information and use the software to check if the asset is under warranty and whether they need to hire a repair technician or get it covered by the warranty."
"On top of that," he continues, "if they initiate a work order to send a technician, they'll be automatically alerted that it's under warranty."
No asset left behind
Once Smart Asset Tracking™ has been added to the SuiteSpot TRIMM™ platform, users can add their asset records in SuiteSpot using a manufacturer serial number or a company-issued ID. They can also manually or automatically update asset records with location, status and condition, spec sheets, notes, and photos when performing maintenance or inspection activities.
After this information is in the system, users can view the real-time status or historical performance of every tracked asset, as well as receive alerts/notifications regarding the asset's warranty, required maintenance, and other key information such as product manuals and repair guides. As well, Smart Asset Tracking™ users can use the system to generate asset management reports that inform budgeting and future procurement activities.
"The goal is to help operators be more proactive versus reactive with respect to their assets," notes Jaeger. "It's about having the ability to see that several of your unit appliances are crossing their end-of-life threshold soon and using that insight to replace them before it's too late."
Smart Asset Tracking™: A breakdown
Smart Asset Tracking™ is seamlessly integrated into the SuiteSpot TRIMM™ platform, where it provides the following features and capabilities:
Rich Asset Data: SuiteSpot Smart Asset Tracking™ stores a variety of information about each asset, including its location, condition, maintenance history, warranty info, manuals, spec sheets, notes, photos, and other documents.
Flexible Asset ID: The system stores each asset's manufacturer serial number and/or company-issued ID and allows users to scan any of these identifiers to locate them in the field.
Inspection Integration: Allows "Asset Items" to be included in any inspection template. Asset items enable the user to scan any of the barcodes identifying the asset and then take note of the status of the asset and include photos or notes which are automatically added to the asset history as soon as a unit inspection is completed.
Work Order Integration: SuiteSpot Smart Asset Tracking™ is fully integrated with the work order module, allowing assets to be scanned and associated with work orders. The system will alert associates if the appliance that is part of a service request is currently under warranty, preventing unnecessary or even warranty-voiding repairs.
Asset History: SuiteSpot collects and retains all lifetime information about an asset including location, photos, warranty information, manuals and any other pertinent materials. All changes to the information are documented, ensuring complete visibility and traceability.
"From unit appliances to mechanical equipment, multifamily operations hinge on the ability to track and maintain critical assets," says Jaeger. "Smart Asset Tracking™ was made to help teams do so more effectively and with far more peace of mind."
Want a real-time view of your multifamily assets? Learn more about SuiteSpot TRIMM™'s Smart Asset Tracking™.