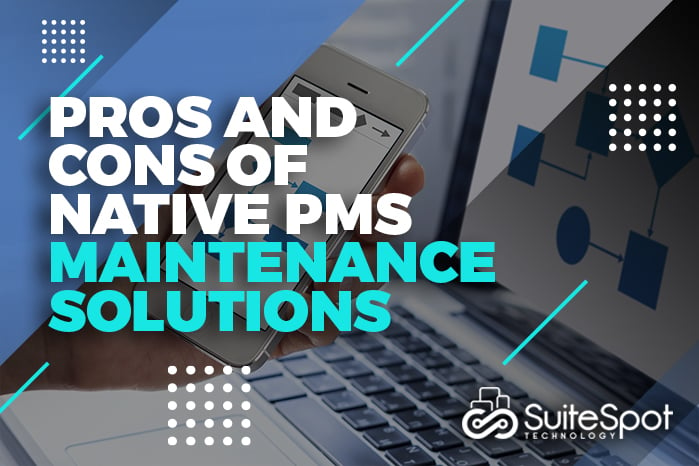 Property management software (PMS) is an undeniable asset for multifamily teams. But when it comes to tackling the full scope of property maintenance and make-ready activities, even the leading PMS platforms fall short.
There's no underselling the value of a reliable PMS system. Highly specialized platforms like Yardi, Real Page and MRI give property managers the tools to streamline operations, connect teams, and unlock efficiencies (and savings) across entire portfolios. They demonstrate the value that digital technology can bring to the property management field.
That's not to say they're perfect by themselves, though. While today's PMS solutions do many things, they often cannot handle the complexities of maintenance and unit turnover activities for the typical large multifamily organization, let alone the ones with ambitious growth plans. Project visibility can be limited, multifamily-specific functions may be lacking, and mobile capabilities can be undercooked.
For these reasons, there is value in exploring dedicated TRIMM (Turnover, Renovation, Inspection, and Maintenance) solutions . Whether used as a standalone or as an integrated extension of an existing PMS platform, TRIMM solutions allow for more control over maintenance and make-ready processes. This brings greater visibility, standardization, and money-saving opportunities to the table.
Improved Visibility
With many PMS systems, maintenance work orders are only visible to the user who has assigned them. On a TRIMM platform, work orders are available to all approved people within the process (e.g., field techs, vendors, back-office teams, etc.). This enables the entire team to track orders from their first creation to final fulfillment.
Purpose Built
While PMS platforms focus mainly on the back office accounting, resident and leasing management, TRIMM solutions are designed specifically for multifamily maintenance and facilities management. This means every maintenance-related tool is designed with real use cases in mind that takes into account the challenges, and unique considerations that multifamily front line teams are facing every day.
Superior mobile solutions
Mobile unit inspection and maintenance apps can be a huge advantage in multifamily operations. In reality, many mobile apps that come packaged with PMS solutions lack the fundamental tools, best practices and domain expertise which is very different from what the PMS core expertise is all about – leaving them to be abandoned by frontline staff. In short, they are often more of a liability than an a value add..
The opposite is true for mobile inspection apps that are purpose built and focused on TRIMM processes. Designed specifically for multifamily maintenance techs, managers, vendors, and other stakeholders, these dedicated solutions are made to handle the day-to-day realities of working in a multifamily environment. They are easy to use by staff and vendors, flexible, organized, and add significant value, making them an asset to any multifamily operator, manager or field maintenance team (rather than a liability).
Powered by data
Successful Multifamily operations thrive on data. A dedicated TRIMM solution will ensure data from the field is being tracked and analyzed in real-time, enabling tighter oversight, and actionable insights on variance and anomalies.
Operational savings
Bringing greater visibility, control, and accountability to maintenance and make-ready processes has its benefits. In fact, a recent SuiteSpot study found that using a dedicated TRIMM platform – either alone or as an extension of a PMS system – unlocked 2 to 3 million dollars every year for every 10,000 unites owned or managed. Enabling companies serious about value creation to reduce or eliminate the friction that's slowing them down, control operational costs, protecting their assets, provide greater visibility into the performance of assets & staff, and delivering an excellent resident experience.
PMS solutions have a lot to offer property management owners and managers. Yet when it comes to multifamily maintenance operations, they can't do it alone. Adding a dedicated maintenance and make-ready TRIMM platform to the mix can ensure a complete multifamily management solution.