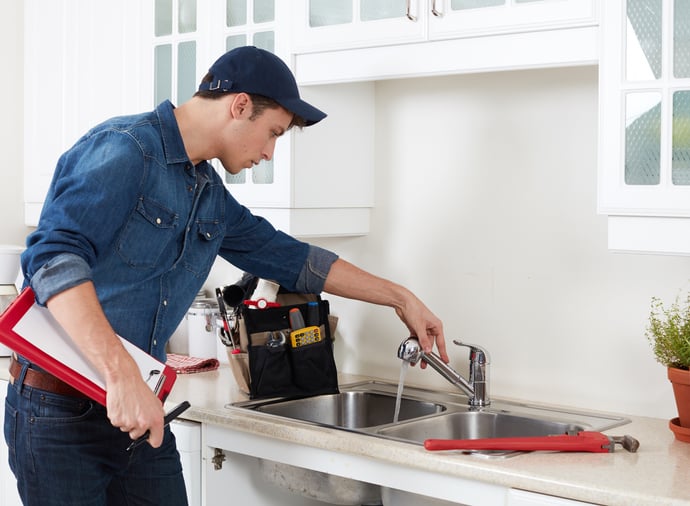 These are trying times for property staff, but that doesn't mean relationships with your residents need to suffer. As changes abound and anxiety runs high, it's more important than ever to set and manage resident expectations in order to keep occupants safe and comfortable in the age of COVID-19.
On the front lines
Maintenance teams have a critical role setting and maintaining resident expectations. With social distancing rules keeping many in isolation, maintenance crews are likely the only point of face-to-face contact between residents and their property management team. As such, they and the admin team must be ready and able to identify, assess, and prioritize maintenance requests to generate trust and peace of mind among building occupants.
What does it mean to be equipped? It's about having the right tools, systems, and processes to understand the task at hand and streamline a solution. It's also about communicating effectively with property managers, staff, and residents alike to avoid miscommunications or surprises that will prevent your site teams from meeting resident's expectations.
Here are five ways both maintenance teams and their colleagues can meet resident expectations during these uncertain times:
1. Use digital communications: It's no longer feasible to hold face-to-face meetings or stay current with just physical signage. Instead, property managers are leaning into digital communication solutions such as automated group emails and message boards which keep residents in the loop. Given the success of this approach, the Institute of Real Estate Management cites that 87% of respondents within its industry survey believe bulk text messaging and emails are here to stay.
2. Make a complex process user-friendly: In a paper-based system, requests can fall through the cracks, or only be noticed late into the day. A mobile device and software can help make sure maintenance requests are logged as soon they are received, enabling your staff to coordinate to meet deadlines. In a recent series of interviews we conducted, many operators mentioned that coordination was one of their biggest challenges.
"In a lot of cases, you have maintenance staff physically walking from building to building to collect paper-based requests and then go do the work. The issue with that is there could be a higher-priority request that comes in minutes after they leave, and it just sits there until the end of the day," says Ethan Frey, Chief Operating Officer with Blue Ocean Realty.
The problem, Frey continues, is that maintenance personnel are not only challenged to coordinate the timing of resident visits, they must often also coordinate all the steps involved in turnovers, without much visibility. "There are all these moving parts, and without a way to capture all that information into a central system or dashboard, you'll have a hard time recognizing where you are in the process and who needs to take the next step."
3. Be visible: It's one thing to set expectations; it's another to demonstrate they are being met. That's why there's value in ensuring maintenance staff are a visible on-site presence, whether it's cleaning staff taking care of the lobby, maintenance techs working on building systems, or other staff monitoring health and safety work.
"Perception counts right now," says Joanne Chapman-Reps, principal at D2 Demand, a company focused on improving rental revenue performance. "You need to consider the resident experience and their view on what's being cleaned or maintained."
Chapman-Reps adds that while there is an inclination to perform these tasks off-hours to avoid disruptions, seeing maintenance staff in action helps to assure residents that their needs are being addressed, even under unusual conditions: "There's something to be said about seeing the cleaning staff at work in a fitness room, lobby, or any common area. It provides that sense of comfort and trust in the property management team that you wouldn't get it you saved that for behind-the-scenes and after hours."
4. Be prepared: Most residents expect their issues to be resolved on the first visit. Failure to do so – or showing up ill-prepared – erodes trust in the team. That's why it's especially important for administrative staff to ask the right questions upfront to ensure maintenance crews are well equipped for the task at hand. Here's where having the means to capture, manage, and share digital documentation (e.g., photos, videos, etc.) comes in handy.
"With technology, we're able to have residents self-report more effectively and get answers to those questions off the bat," says Chapman-Reps. "With that information, maintenance can show up knowing the issue and ready to fix it. That makes everything more efficient."
5. Level up on customer service: Sometimes, it's the little things that chip away at resident relationships. Some may get upset if maintenance workers wear their shoes inside, while others are dissatisfied if a leak is fixed but the items under the sink aren't replaced in a very particular way. Once again, it pays to take extra time at the beginning of the process to identify and convey resident preferences. It's also a good idea to follow up with residents to ensure that their issues were resolved after a maintenance call. To ensure expectations are met, many well-run properties send satisfaction surveys when a work order is closed or a move-in is complete.
The pandemic has accelerated issues that were already present prior to lockdown, but one thing is clear: expectations can vary, so it's important that your team is equipped to be as efficient as possible. Hitting the mark with residents means enabling property management teams to communicate effectively, work efficiently, and manage expectations from the moment residents reach out.