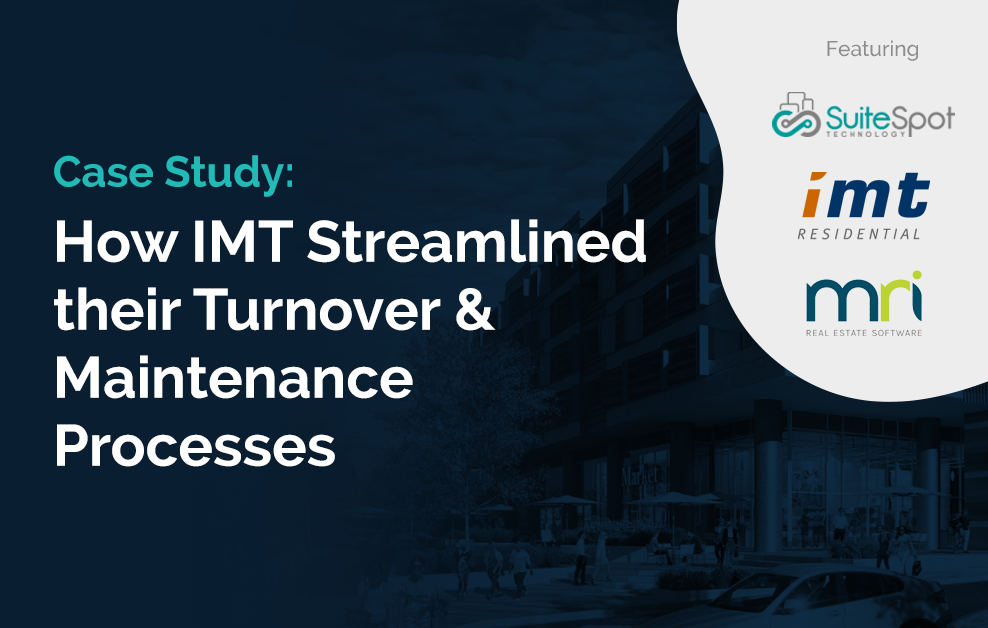 The pursuit of greater transparency and control over its multifamily operations led IMT Residential to SuiteSpot Technology. With approximately 17,000 units owned and operated nationwide across 54 communities in nine states, IMT sought a maintenance solution that would fully integrate with MRI Software, grant real-time visibility into its service requests and make-ready processes, and thereby positioning its team and operations for future success.
The old playbook for managing service requests and turnover
"Before SuiteSpot, service requests were entered directly in MRI, either by an office associate or by the resident online, and then printed. These requests were then organized and distributed by the Service Manager to be completed by the service team. As service requests were completed, they were brought back to the office and closed out," recalls Kelly Maier, Associate Vice President of Training with IMT Residential.
"Our service request processes provided limited transparency and visibility, and left us open to human error," says Dan Onder, Vice President of Finance with IMT Residential. "And as far as our unit turns, we were still using a whiteboard to organize a bulk of that process."
IMT was doing well to uphold client expectations, but the lack of transparency, accountability, and data-driven insights made it difficult to track and measure success. And while the team eventually migrated its physical whiteboard work to Excel, the few advantages it gained were quickly outweighed by human error, data integrity concerns, and less-than-user-friendly processes.
IMT Residential wanted deeper engagement with the service team, responsible for its maintenance and make-ready activities. That required the means to track, measure, and support their teams' growth through career-advancement strategies based on reliable metrics and key performance indicators (KPIs).
Changing the operation playbook, removing property maintenance friction
IMT conducted an exhaustive search and evaluation of all the maintenance solutions on the market, led by Maier. "I demoed all the solutions available, but found something that wouldn't work or that I didn't like with each of them. Whether that was their lack of ability to integrate with MRI or it was simply too complicated to use."
Eventually Maier's persistence paid off when she found SuiteSpot. Thanks to a partnership between and MRI and SuiteSpot, IMT was able to seamlessly integrate SuiteSpot's maintenance platform into its existing digital environment.
You really can have it all!
IMT's search began with a mission to empower, manage and engage at a deeper level with its service team. And since the adoption of SuiteSpot TRIMM™, the team now has the tools to do just that.
"The software makes it really easy for them to do what they're there to do," says Carmen Wrona, Operations Trainer at IMT. "It's that boost of confidence knowing they can pull notes, schedules, and reports right up on their device, and that everyone is being held accountable for their responsibilities."
Maier says that the team appreciates the fact they are wasting less time and hassle updating static spreadsheets, juggling disparate sources of photos and notes from inspections, or going back to the office to perform tasks that can now be done automatically through the SuiteSpot mobile app.
"They're not wasting time anymore going back to the office to see if there is another ticket to complete because they're getting updates and work orders right on their device, people know what they need to do, where they need to do it and when they need to do it by" she adds.
At the same time, IMT leadership has the insights they need to inform stronger team training and development initiatives, while identifying and addressing areas along the service request or maintenance process that can benefit from improvements.
Overall, Maier says, "It's so refreshing to have EVERYTHING in just one app. And not just real-time make ready schedules, work orders, and reports, but all the templates you need to create things like work orders, inspections, chargeback letters."
"You really can have it all with SuiteSpot," she adds.
Looking Ahead
It's been nearly a year since IMT brought SuiteSpot TRIMM™ into its operations. And while the adoption of any new technology comes with a degree of team resilience and the need for onboarding, IMT reports the onboarding process has been successful thanks to the platform's ease of use and consistent support from the SuiteSpot team.
"The response from our teams has been phenomenal," reports Onder "Our associates were eager to adopt the new system. We made it thanks to the fact this is an intuitive mobile maintenance technology solution. It has taken our maintenance operations into the 21st century."
Learn more about how you can ditch the whiteboard and spreadsheets by digitizing your maintenance processes.