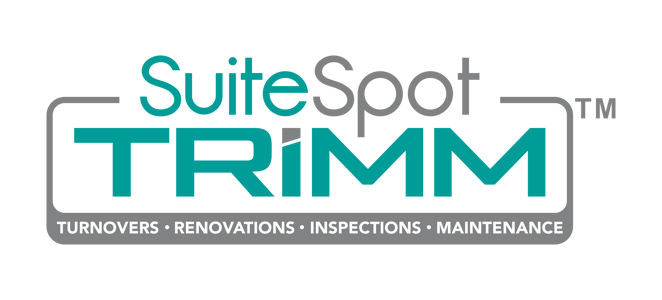 The multifamily housing business is a great business to be in. Every day we have the opportunity to provide a wide variety of people with what most people believe is among the most fundamental human needs.
From a business perspective, we should also admit that it's been a great business to be in because we've been insulated from many of the trends and growing pressures that have made navigation more complex and difficult for most other industries. Three driving forces have protected multifamily owners and operators:
Real estate is a local business. Historically, that localization has buffered us from many of the changes that have dominated the business landscape.

While we've certainly had to adjust management processes over the last decade, our fundamental staffing models and approaches haven't changed -- if for no other reason, they haven't needed to.

The industry is extraordinarily resilient. Real estate has always been relatively recession-proof, but as the last decade has demonstrated, performance can be strong in all market cycles.
3 Trends Accelerating The Digital Transformation in Multifamily

The insulation that has provided a buffer has shown signs of erosion. Even before the COVID pandemic, we saw changes that would have been considered revolutionary just a few years ago.
Today, we see three factors putting new pressures on operators:
1. The Changing Expectations of Residents
In 1982, Megatrends: Ten New Directions Transforming Our Lives was published. Author John Naisbitt introduced the idea that came to be known as "High Tech - High Touch." He posited that as technology was becoming more prevalent in all aspects of society, "opting out" wasn't really viable. However, Naisbitt believed that for technology to be successfully adopted it must be balanced by "touch." The multifamily industry has always benefited from this as it has always been an inherently high-touch experience.
But, as companies like Uber and Amazon transformed how people use technology, the consumer expectations have radically changed. Think about this: you can go to an Amazon grocery store, walk in, buy your groceries and walk out. Welcome to the no-touch experience.
Today, residents expect a creative utilization of technology, transforming high tech into high touch. If you've ever bought a pair of glasses from the likes of Warby Parker, you'll feel like you've had a highly personalized, high-touch experience. It's a delight -- all delivered by technology. This enables Warby Parker to deliver a higher fidelity experience than legacy options and has enabled them to lower prices while also donating glasses to the needy. This mission further delights their customers.
2. The Changing Nature of the Labor Pool

The multifamily industry has been a tremendous job creator for skilled and unskilled workers alike. It's been a great place to start out and, for many, provides a long and stable career path.
The labor markets have changed greatly over the last decade. The people typically hired for onsite staff are now getting opportunities in very different industries, often at far more lucrative levels than the multifamily economic model supports.
Most of the last 10 years have been characterized by record low levels of unemployment, and even today, the competition for the talent that has historically filled multifamily's frontline roles is as intense as ever.
Combine this with consistent frontline employee turnover rates of 30-50% (and in some markets even higher) and it's clear that there's a huge loss of "tribal knowledge." In other words, employee knowledge is more transient than it should be, whether it's undocumented or in a binder buried in a cabinet. Add to that the fact that it quickly becomes obvious that finding and onboarding the right people to do what needs to be done on-site within cost constraints is harder than ever--and it's not going to get easier. Reducing dependency on your staff, while radically increasing their productivity, is quickly moving from "nice to have" to "must have."
3. Covid: The Pandemic Is Proving to be a Major Accelerant

Certainly, there's nothing that's had more impact than what has happened this year. COVID has fundamentally changed things in ways that we could not have imagined before it happened. Professor and business advisor Scott Galloway shared, "The pandemic is more of an accelerant than a change agent, which has supercharged disruption already present."
But, as Galloway noted, it's important to realize that COVID is forcing businesses to fast-forward 3, 5, even 10 years into the future in terms of performance and planning.
The multifamily industry has been at the center of this acceleration. In fact, for the rest of our careers, we'll find COVID has probably forced us to think in a fundamentally different way than we ever thought we would.
Covid has changed the game for effective property management and will require operators to rethink nearly all aspects of their on-site services and Human Resources strategies. As the "new normal" emerges, operators who haven't already accepted these changes (with more to come) must do so now.
Top Companies Orchestrate Technology To Deliver Superior Experiences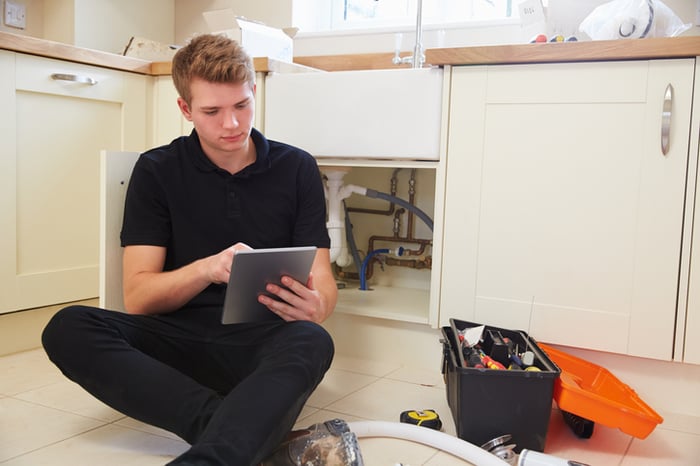 People are expecting touchless experiences, where technology will be integrated to enhance their experience, give them more control, and make things easier.
The companies winning today are changing how they think about doing business. We can look at a variety of different industries to see that the net result of all this is that the winner is getting the spoils. Think about the winners of yesterday. LensCrafters, Siemens, Wells Fargo, waterfall planning, software like Microsoft Project viewed technology as a utility and required labor-intensive support to make things work.
Historically, this is how multifamily has viewed technology. The focus has been almost exclusively on efficiency and controls. Certainly, this is still important today, but it is no longer enough.
As we shared earlier with the Warby Parker example, today's winners leverage technology to enhance the user experience and accelerate productivity. Warby Parker is not alone. AirBnB, Uber, Amazon, Dollar Shave Club, and even more traditional companies like Panera, Disney, and Walmart have all transformed how they view and use technology.
The Secret: Find The Friction & Eliminate It
All of these companies are using technology to eliminate important points of friction. Let's be honest, it's far too hard, far too complicated to do most of the things that are happening.
Pause for a moment and consider the ideal resident experience. While this is going to be different for each individual, it's likely that the vast majority include never having to talk to anyone, see anyone, or do anything that they weren't already thinking about. It would also include knowing the status of any request or condition, without having to ask about it.
While the approach to managing the resident experience often focuses on orchestrating and managing touchpoints, today any touchpoint has a greater chance of creating a negative impact rather than a positive one. The key today is to identify and eliminate these points of friction to create a more effortless resident experience.
Today's winning companies have found smart ways to integrate technology into the customer/resident and employee experience to create 3 wins:
Delivering a superior customer experience

Providing both the buyer and seller with greater control and insight

Lowering costs of execution
The Missing Piece
We should celebrate the revolution that has occurred inside your corporate headquarters and leasing offices. The ways we market properties, qualify potential residents, and lease and manage properties have, for the most part, been transformed by digitization.
Now consider how you manage four important operational areas:
Turnovers

Renovations

Inspections

Maintenance
You're likely using technology to store information, but fundamentally, has your core operational processes changed? Most likely, it hasn't.
There's one word that best describes multifamily's approach to managing these areas: chaotic.
No one knows where everything is and where everything stands. Work gets done and redone. Mistakes happen. We've talked with the onsite personnel responsible for these functions and they all tell us the same thing: they're living the death of a thousand cuts.
While we've radically changed how we manage the front office, which has eliminated the vast majority of friction in these areas, we still manage our facilities almost the same way we have in the past.
The use of technology in these areas enables you to manage more activities, but it's not eliminating friction. In fact, in many cases, it's introduced new forms of friction, and it's not improving the resident experience. For example, adopting a technology that isn't well-suited to your particular industry isn't efficient. Likewise, adopting a complicated app for tech-averse field workers could backfire if they resist using it. In 2019, we conducted research that highlights how much is lost-- financially and otherwise--through friction in these areas.
Introducing SuiteSpot TRIMM™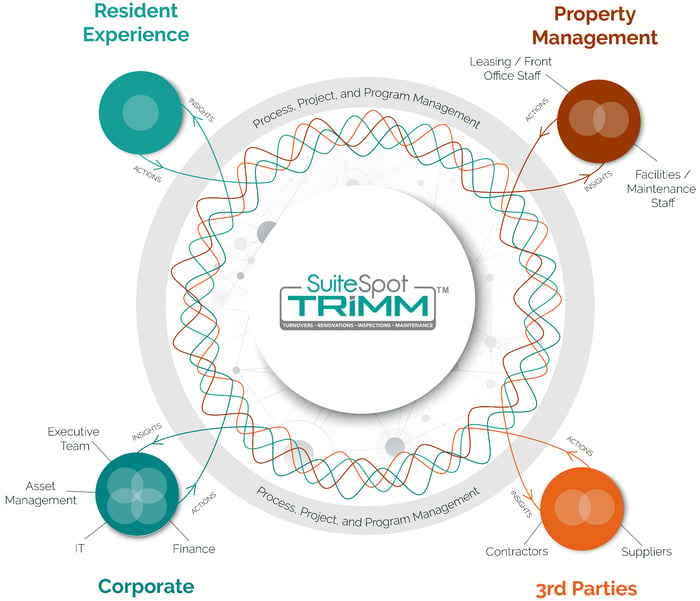 The demands today are greater than ever before. Thousands of activities, people, and third-party vendors must be highly orchestrated to deliver on the promise of frictionless property operations and superior resident and employee experience.
Today we're excited to share the newest version of our flagship product SuiteSpot TRIMM™.
SuiteSpot TRIMM™ provides three advantages:
a defined, documented, and dynamic process guiding all actions

centralized project, vendor, and workforce management

light cloud-based tech that blends:



A flexible front-end that provides the ease required for field use

a strong, deep enterprise backend with stability, security, and all necessary integrations
This problem is not new, and operators have been working to solve the problem for years; yet little true progress has been made. The reason for this is that operators are using yesterday's playbook to solve today's problems.
For example, the primary problem-solving focus has been on improving communication. Millions of dollars have been spent on property operations tech, training, and management designed to enhance communication across functions.
But communication isn't the cause of the problem. After all, by the time the typical maintenance employee completes a planned service request and makes it back to the office, they've likely had to deal with multiple unexpected events. The complexity and lag inherent in work mean that anything other than real-time orchestration isn't going to solve the problem.
And the problem is that virtually all functions of an operator are involved and impacted. Too often these groups operate as silos with conflicting priorities and requirements. This results in each stakeholder creating their own system and process for managing their needs, creating multiple "sources of truth."
SuiteSpot TRIMM™ breaks down these silos and orchestrates each stakeholder's needs to align them with how they best do their job. This means everyone stays focused on the job they are doing, knowing that the project and process management is under control.
This enables property managers to utilize technology in new ways, eliminating friction and empowering people and residents, while simultaneously increasing the control and insight to manage these important processes. That's good for the resident and good for the operator.
The time has come for your community -- residents, employees, contractors, and suppliers -- to love the technology they use. The time has come for SuiteSpot TRIMM™.