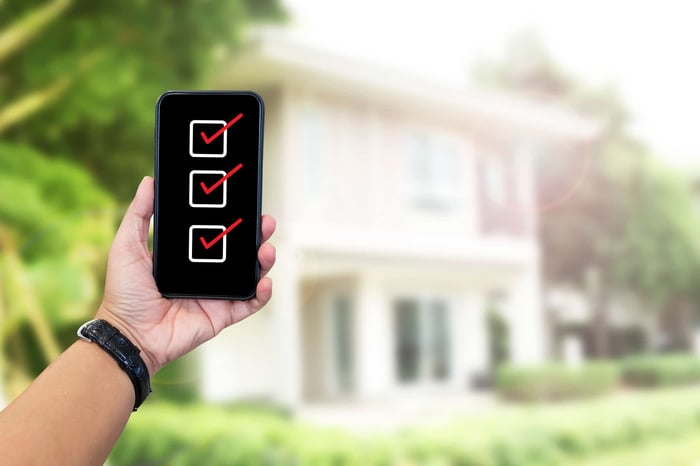 Industries can be reluctant to adopt new technology. Some professionals prefer the "old ways" believing modern technologies can't replace traditional tools. These attitudes persist across every sector – including property management.
Thanks to the rise of mobile unit inspection and maintenance apps, opinions are changing. Property management professionals are recognizing how these apps can vastly improve the speed, accuracy, and efficiency of the unit turnover process.
In our previous article, The rundown on mobile inspection apps, we discussed how unit turnover apps are "upgrading" traditional property management tasks. Still, the question remains: is an app right for you?
Read ahead as we spotlight the advantages of mobile inspection apps and how you can benefit from what top-tier options like SuiteSpot can offer:
The app advantage
Mobile unit inspection apps differ from one download to the next. Some are basic, digital checklist tools that are simple paper replacements. Others, like SuiteSpot's, offer a broader range of digital tools and resources suited to streamline all facets of the unit turnover process.
When it comes to more sophisticated apps, benefits for field staff include:
No cut corners: Advanced apps like SuiteSpot's enable users to "hit the ground running" with a library of pre-made inspection templates (e.g., for apartments, condos, etc.). They also track and record every single aspect of the inspection, ensuring thorough and accurate outcomes.
Enhanced documentation: Many apps allow users to upload photo and video evidence of their investigation, thereby building a body of irrefutable evidence.
Workflow alerts: Unit inspection apps can be set up to notify team leaders when project milestones are not being met, as well as provide insights as to where all team members and vendors are in the process.
Work order integration: The more sophisticated apps allow unit inspectors to generate and send work orders to vendors on the fly. This reduces paperwork and helps keep tabs on any work that comes out of a unit inspection.
Digital signature collection: Instead of multiple contracts and lost paperwork, mobile inspection apps allow for important documents to be signed via touchscreen, after which those authorizations can be stored within a securely.
Secure storage: Inspection documents and evidence can be backed up to a safe location and stored for future reference.
Mobile unit inspection apps can also provide additional benefits to office staff/property management stakeholders. They include:
Real-time tracking: When connected to a company's network, data from mobile inspection apps can be used to track the progress of unit inspections and repairs across a wide range of assets and portfolios. This keeps field staff and office personnel in sync and on the same page.
High-level scheduling: Office staff can schedule unit inspections and repairs into a field professional's apps, ensuring tasks don't go missed and that work is prioritized appropriately.
Data analytics: Unit inspection data can be combined across asset types, portfolios, and regions to benchmark their performance, identify trends, control costs, and mitigate risks.
In-depth reporting: Stronger data collection and storage capabilities allow for more thorough and accurate reporting. This helps companies forecast costs with greater confidence.
Streamlined communication: With the tap of a screen, office staff can reach out to entire teams and keep everyone in the loop.
How do you know if you can benefit from a mobile inspection app? Here are some questions you can ask:
Are you confident your team is on track and inspections are being carried out promptly?
Can you identify which units or common areas are updated (or not) without digging through paper trails and email threads?
Have miscommunications between field staff cost you time and resources?
Have you noticed that costs seem to be exceeding expectations but can't easily determine the causes?
Are you spotting common errors or inaccuracies on unit inspections?
Is your inspection/repair evidence easily accessible and defensible?
Would you benefit from tracking repairs and inspections, conducting data analysis, and generating ROI faster than you are now?
If you manage several different properties or buildings, are you finding it increasingly difficult to keep track of them all?
Making the right selection
If you answered 'no' to any of the questions above, odds are you may benefit from bringing mobile inspections apps into your operations. Then, the question becomes: Which one is right for me?
Again, there are many different types of mobile inspection apps. Here are some factors to take into consideration:
User-friendly: Is the app intuitive and easy to use? Does it require much training? If so, is that training built-in or provided by the developer? SuiteSpot's app, for example, was designed from the ground up for use by all professionals, no matter their tech skills or comfort level with mobile technologies.
Cross-platform: Does the app work on all devices? Your staff may have different models of smartphones (e.g., Apple or Android) so it is essential that the app can run and interact with different platforms.
Offline capabilities: Does the app require a constant internet connection to work? SuiteSpot's app can be used offline and programmed to upload information when an internet connection is available.
Developer support: SuiteSpot provides ongoing technical, onboarding, and updating support for its app – a feature that isn't always guaranteed in more basic of "free" alternatives.
Cost of adoption: How much does it cost to download the app, and are their options to use it on a subscription or use basis? More options mean greater flexibility.
There is no shortage of mobile unit inspection apps on the market; but like anything else, it's important to do your research. One place to begin is through Google searches, although it pays to look beyond sponsored links and limited "free" alternatives. One can also read online reviews, ask their peers for recommendations, or contact a mobile inspection app developer directly to learn more about how their app works and where its already being used.
Finally, it pays to consult with industry peers. Mobile unit turnover apps are becoming commonplace, and the best feedback will come from those who have put them to the test in the field.
Making the move
Once you have an idea of what you're looking for, the next step is to give it a test run. SuiteSpot provides users with personal demos, during which SuiteSpot team members run through the app's features, customizable options, and pricing information. If the developer doesn't offer a trial run or demo, consider that a red flag.
When you've made your selection, it's time for the implementation process to begin. Here again, developers like SuiteSpot will help with the training and onboarding, as well as with integrating the app into back-office systems (e.g., accounting, scheduling, HR, vendor management, etc.). In many cases, the implementation stage is fast and straightforward. And with added developer support, it won't be long before the app is generating ROI in the field.
Learn more about SuiteSpot's mobile unit inspection features
and the benefits of rental property inspection apps.