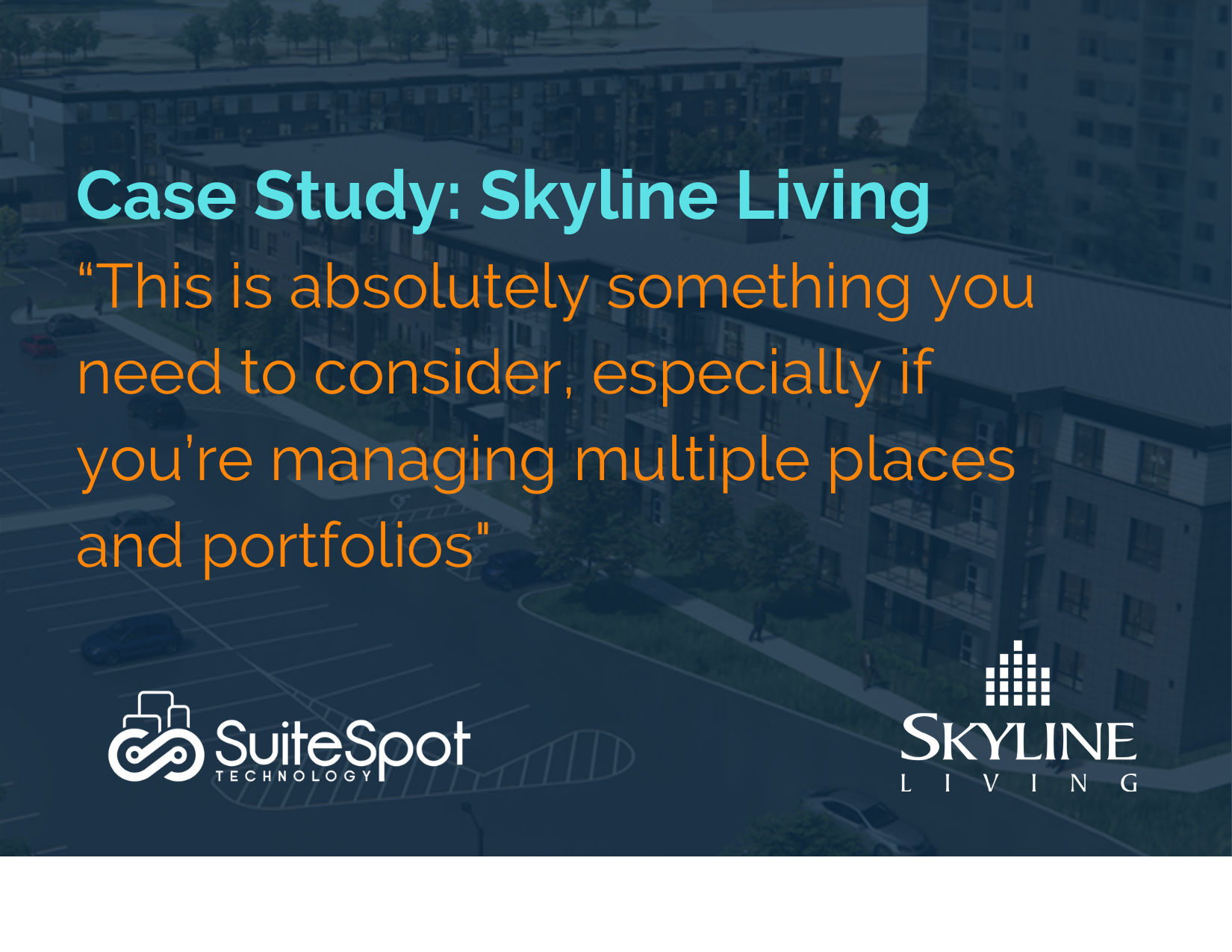 The pursuit of unit turnover savings, efficiencies, and data-driven insights led Skyline Living on the search for a new facilities maintenance solution. After scouting the market for the best fit, the team found its answer in SuiteSpot Technology's TRIMM platform.
Upgrading the unit turnover process had become a near necessity for Skyline Living. By 2020, what started in 1999 as a small rental business run by two brothers, Jason and Martin Castellan, and their friend, Roy Jason Ashdown, had flourished into a nationwide firm managing 20,000 apartments under the larger Skyline Group of Companies.
"Skyline has definitely come a long way from two brothers with a bug for renting," says Adrienne Shepherd, Efficiency and Process Development Manager with Skyline Living, who joined the company in 2013 and has had a front-row seat for its rapid transformation since.

"I can tell you from the time I came into the company until now, it's a completely different company," she adds.
Years of growth had positioned the firm as a leader in the multifamily management space. At the same time, expanding portfolios and rising expectations were stretching the team's manual and paper-based make-ready processes to their limits.
"At that time, everything was still being done by paper," Shepherd recalls. "The property managers were still working with physical lists of units they had to see and things they had to do, and the inspection process needed stronger checks and balances."
Excessive paperwork was also draining the team's time, energy, and focus. For example, inputting a purchase order (PO) into the firm's Yardi system would typically take upwards of 15 minutes per submission. This was the time it took for staff to pour over every submission to check for accuracy and ensure they were being charged fairly by their many vendors.
"There are so many details in a PO, and it was very easy to miss things we shouldn't be charged for. Going over each PO was just taking up a lot of time and needed to simplify that whole process," says Shepherd.
Managing POs wasn't the only time-consuming task when it came to managing documents. From incident reports to resident requests, and field notes to general communications, a bulk of Skyline Living's unit turnover and maintenance documents were still handled by hand or through countless emails.
"We had so many papers and emails going to so many different people that no one had full visibility into where they were ending up," says Shepherd. "We were managing, but it was a struggle to make sure these important documents weren't going to the wrong place or getting lost in the shuffle."
Certainly, the challenges of managing the make-ready process were adding up. And with Skyline Living's portfolio continuing to grow, the firm needed a new technological solution that would introduce greater visibility, accountability, and collaboration among its coast-to-coast operations.
Taking it to SuiteSpot TRIMM™
While Skyline Living was doing its Skyline Group proud, the multifamily management organization was past due for a make-ready revolution. After investigating its choices, the team selected the SuiteSpot TRIMM™ unit turnover management mobile platform, to lead its well-earned transformation.
Fast-forward to now, and Shepherd says the results more than justified the investment: "I love this system; everything from scoping to inspections is all digitized and seamlessly works together now, whereas before we were writing everything down and dealing with paper copies. All of the work we used to do by hand is now being done inside SuiteSpot, saving us time that we can now allocate somewhere else."
Since the platform's implementation, the Skyline Living team has transitioned the bulk of its manual maintenance processes to SuiteSpot TRIMM™, including incident reports, notice requests, resident feedback, COVID-19 cleaning checklists, and inspections (e.g., unit, fire, curb appeal, etc.). As for those time-draining POs, Shepherd adds the process is night and day: "I was ecstatic when I saw the PO process in SuiteSpot because it was so quick. It literally takes two clicks to get it done, versus the 15 minutes it used to take."
Going digital has also enabled the Skyline Living team to apply greater monitoring and scrutiny to their vendor arrangements. For example, some quotes that would typically hover around $37,000 were now over $10,000 less after being logged and analyzed within SuiteSpot TRIMM™.
"That's been a significant saving," adds Shepherd. "There's really nowhere for vendors to pad their quote anymore because we're now looking at exactly what we need. For instance, we know the exact square footage of each of our units, so someone can't charge us for 1400 sq. ft. when we know for a fact it's less."
Digitizing the document management process has also been a plus. Now, key documents, questions, and updates are submitted directly into SuiteSpot, where they are automatically pushed to the right department and logged within their related jobs.
SuiteSpot's self-filing functionality has also been a boon. For example, says Shepherd, "Property manager administrators (PMA) no longer have to file anything, and that's a huge advantage. I remember when I was a PMA, and I hated the beginning of the month because I got hundreds of emails, and I'd have to put them all into the same folder and say, 'I'll deal with those another day.' Now, though, those emails just file themselves, giving our PMAs one less thing to worry about."
A new view
Ask the Skyline Living team what they appreciate most about their enhanced make-ready capabilities, and answers will vary. For company leaders, however, it's SuiteSpot TRIMM™'s dashboard that stands out as an essential resource.
"The dashboard is amazing; It's my baby. I love being able to see that data, know exactly where things are, and use it to send off my reports," says Shepherd.
Greater real-time visibility has certainly been a plus. So too has the ability to track unit turnover costs and timelines at various stages in a unit turnover to set performance metrics, conduct benchmarking, and inform future budgets and business plans.
Just a call away
Investing in a unit turnover and maintenance technology platform was no small decision. However, SuiteSpot TRIMM™'s' simple integration with Yardi and ongoing customer support were among the top factors that pointed the team to SuiteSpot's solution.
Speaking to that 24/7 support, Shepherd notes, "The team is amazing to work with. I rarely find anybody who works as fast as I do, but they keep up. By the end of the day, I'm guaranteed to have all my questions answered, so it's a comfort knowing that when I get stuck or need help that I won't be waiting days on end to move forward."
As for what comes next, Shepherd says there are plans to digitize the firm's remaining paper-based processes, dive into even more SuiteSpot TRIMM™ modules and features, and continue exploring everything the platform has to offer.
"I love it; I'm learning something new about it every day," she says, adding, "This is absolutely something you need to consider, especially if you're managing multiple places and portfolios and you want to see everything that's going on while having the ability to step in and follow up when you need to."
Check out this white paper to see how multifamily owners and operators like Skyline Living are increasing their NOI and revenue with better make-ready and maintenance processes.