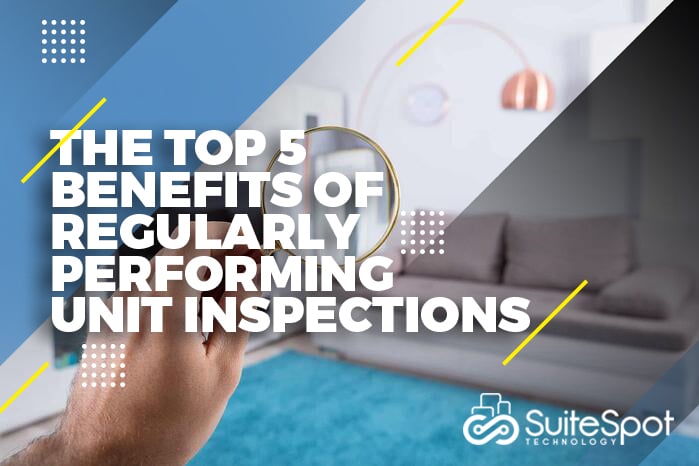 There's no underestimating the value of a productive unit inspection. Beyond providing a view into the state and condition of one's asset, the data and insights collected from unit inspections can prove critical in planning ahead.
"Conducting an inspection of a multifamily property is about more than simply assessing its general condition", says Elik Jaeger, CEO at SuiteSpot Technology. "Done right, and with the right tools, it's an easy opportunity to collect information that will help you budget, schedule more effectively, identify risks and liabilities, and ultimately protect your asset."
These are the top five reasons why you need to make regularly performed in-unit inspections a top priority:
Budgeting
Having data concerning the age and condition of unit fixtures and appliances can simplify capital planning. By understanding which replacements and repairs are needed across their portfolio, property operators and managers can prioritize work and build budgets accordingly.
Resident modifications
Some residents may take it upon themselves to change various parts of the unit during their residency. A unit inspection is the best time to document what has been replaced, where they've stored the old item, and its condition. "Let's say a resident installs their own light fixture." suggests Jaeger. "when they move out you'll either be left with a light fixture that doesn't match the rest or, if they take it with them, you'll be left to cover the costs of a replacement fixture if the original can't be found."
Utility savings
Unit inspections are an ideal time to assess the energy-efficiency of existing assets (e.g., kitchen appliances, lighting, HVAC systems, toilets, showers, etc.) and determine if energy-efficient upgrades could decrease energy and water consumption. Government programs to assist with water and energy retrofits can help offset costs while still having the desired decreases in usage.
Enhancing safety, reducing liability
It's critical that life-safety devices such as smoke detectors, carbon monoxide detectors, and window restrictors are present and working as intended. All unit security and safety devices should be regularly inspected to ensure they are doing their jobs. Unit inspections are an ideal time to check on the status of these elements, thereby enhancing tenant safety and reducing one's liability.
Asset due diligence
At the end of the day, property managers and owners are in the business of protecting assets and the residents they house. Unit inspections are central in ensuring that units are able to be turned in a timely fashion while guaranteeing that critical data is being collected regularly to help inform budgeting decisions. "With increased institutional investors in the market, rental real estate transactions are becoming more common," says Jaeger. "When units are thoroughly inspected to document their state and condition, the captured information can present excellent data for strategic decisions on maintaining, upgrading, and ultimately enhancing the sale value."
There are ample reasons why you should regularly perform unit inspections. The task may have been demanding in the past, SuiteSpot Technology's property management platform and app are designed to automate, streamline, and optimize the process from end-to-end. What's more, SuiteSpot's Data Summarizer can be used to take all the evidence captured during an inspection (e.g., notes, images, pictures, data, etc.) to provide property stakeholders complete picture of the state and condition of the property and the information needed to create accurate budgets.
Learn more by visiting the SuiteSpot website or Requesting a Demo. We also welcome you to call us at 1-647-797-1997 or email.