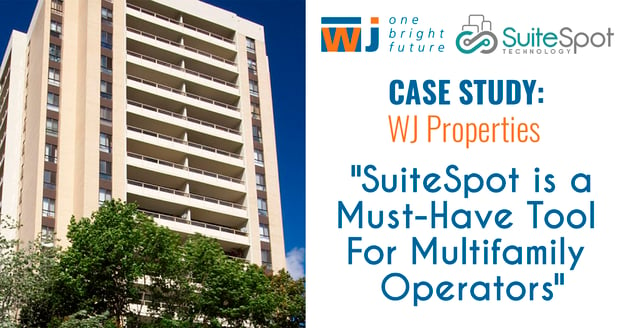 WJ Properties
WJ Properties is a family-run company that's been renting apartments and making people feel at home since 1959. With a few thousand units under management in Toronto, the key to their ongoing success has always been genuinely caring about their tenants.
That's why they've always taken great pride in the speed and quality of their maintenance service and the condition of their units and properties.
That commitment to quality is what led Ofir Zamir, the Project Manager at WJ, to seek out a better way to handle their maintenance processes.
The Problems with Paper
From the beginning, all maintenance work at WJ Properties was completed on paper. It got the job done, but it also made things harder to manage than they needed to be and created problems like:
Maintaining accurate and up-to-date files was time consuming and prone to error
Records of maintenance requests and repairs were hard to find, which made settling disputes difficult
There was no way to prove inspections were being completed or work was getting done properly
With no photo evidence of the damages, it was impossible to accurately audit invoices from contractors and to know whether new parts were really required
Reporting data on long-term trends and performance was never readily available, which made improving maintenance processes and the tenant experience difficult
With everyone now owning and being comfortable using smartphones, Ofir knew there must be a better way to manage the maintenance work, maintain accurate records, and make life easier for staff and tenants.
The Search for a Solution
The criteria for a new solution were straightforward.
Integrate seamlessly with Yardi, their Property Management System (PMS)
The ability to push work orders directly to staff and contractors on a tablet or smartphone
User-friendly, yet robust app for maintenance staff to make completing paperwork faster and easier (so they'd actually use it)
Easy to configure to fit their unique maintenance process (like requiring a photo when completing inspections)
Over the course of six months, Ofir tried a number of solutions, but he found that these solutions were difficult and confusing to use. They increased the number of steps required to complete work and he knew his maintenance staff and contractors would never use a solution that made doing their jobs harder.
He knew adoption would be the key to success, so he needed an app with a better interface, a seamless integration with Yardi, and a streamlined workflow.
Finding the SuiteSpot Solution
When Ofir found SuiteSpot TRIMM™ he was immediately impressed and so was his staff. "Our building staff found the app really easy to learn and use" said Ofir.
"Switching to SuiteSpot has given us a much better process for maintenance and work orders that integrates perfectly with our Yardi PMS. The integration with Yardi is a huge help as it eliminates duplication of work and gives everyone access to the information they need. All of our records are now digitized and we can retrieve them at the click of a button. This has helped us with compliance and resolving disputes, as well as making our reporting much faster and easier."
The process with SuiteSpot is now easier to manage, oversee and improve over time. As residents create work orders, tasks automatically get created and assigned in SuiteSpot and sent to maintenance staff on their smartphones. As staff and contractors conduct inspections and complete repairs, they upload photos that automatically get tied to the work order, creating a single digital record that's complete, up-to-date and easy to find in the PMS.
Now, when disputes arise, no one has to try to remember what happened or spend hours looking for paperwork. The complete record is easy to retrieve and always contains photo evidence. Importantly, maintenance staff and contractors appreciate that it's easy to prove they completed the work right and no longer get dragged into disputes. No more he said, she said situations.
Ofir also likes that the new process makes it easier to audit invoices from contractors. If there's a charge that seems out of place or unnecessary, he can quickly view the work order and look at the photos to see whether the new part or replacement was required and whether the charges make sense. It's also easier to assess the quality of work and suggest improvements or better ways to do things when possible.
The whole process can now be managed more effectively, making the quality of service easier to maintain and improve. It's more clear where and why money is being spent and how to better control costs.
"SuiteSpot has changed the way we manage our maintenance processes. It was incredibly quick and easy to set up while still giving us the flexibility needed to manage our maintenance processes across our portfolio," Ofir concluded. "It's a must-have tool for every multifamily operator!"