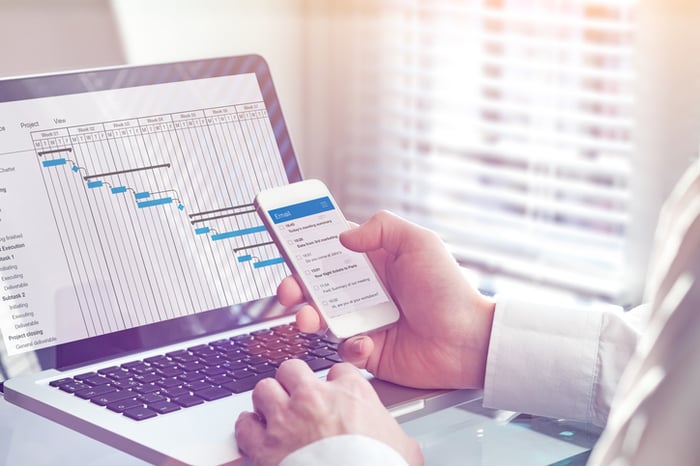 Project management is daunting during the best of times. Add a game-changing pandemic to the mix, and it's easy to understand why stress levels among property management teams are running high. Adapting to the "new normal" is key, but where does one begin?
Surely, the days of "business as usual" are on indefinite hold. Project teams face a host of new challenges stemming from heightened health risks, displaced workforces, and industry disruption. Keeping projects on track takes fresh outlooks and new strategies for both today and the post-pandemic world. Here are 5 things to keep in mind as you navigate this new and changing landscape.
Stay nimble: Changing times call for adaptable mindsets. And as COVID-19 continues to rewrite the rules and spark industry changes, project managers must be ready to adapt their plans accordingly. This can be difficult for leaders who prefer "sticking to the plan," but failing to adapt to new rules, health risks, or resident trends can mean veering off track completely.
Accommodate hybrid teams: The pandemic has made working from home the rule rather than the exception. This can make it difficult for property management teams to achieve cohesion and collaboration among members working remotely and those who are still on site. Since these "hybrid" teams are likely to remain well beyond the pandemic, project managers would be smart to equip themselves with the tools and technologies (e.g., project management platforms, mobile apps, etc.) that will keep their teams intact.
Extend your crisis plans: The world is making progress in its fight against COVID-19, but no one really knows when the pandemic will truly end (or when flare-ups or "next waves" will occur). Take this time to revisit your organization's emergency/business continuity plans to ensure they include the "lessons learned" from 2020's pandemic. This includes developing workflows that clearly define your team members' roles during a health emergency, the specific tasks that will take priority, and related timelines.
Communication: Since the onset of the pandemic, property teams and residents have been working and living in an environment of "unknowns." In a time when misinformation and rumors are everywhere, it's important to keep the lines of communication accessible and clear. It's true that communication has always been critical to project management. However, now it's more important than ever to make sure team members are working with the most accurate and up-to-date information, and that project leaders are setting and managing clear expectations with residents.
The tools to succeed: Advanced challenges call for enhanced property management tools. It may be tempting to reign in expenses, but making it through in one piece relies on giving teams the tools and technologies to work more effectively under increasingly challenging circumstances. These technologies include mobile apps, project management platforms, cloud-computing systems, and other collaborative tools that manage dispersed teams, as well as systems that help teams work faster, more efficiently, and in stronger alignment with vendors.
Few organizations could have predicted what 2020 had in store. As the property management community continues down the path to recovery, it does so with new demands and considerations for project management. Adapting to the "new normal" will take fresh strategies and enhanced resources, but the added efforts can drive successful project outcomes for months and years to come.