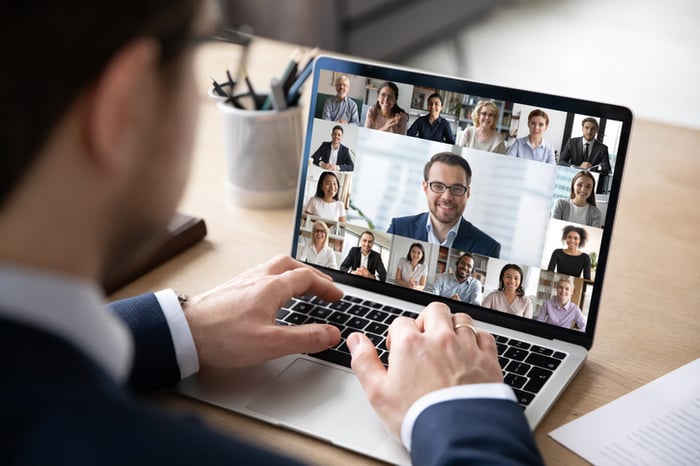 This November, I had the opportunity to attend the National Apartment Association's (NAA) 2020 Apartmentalize virtual convention. Much like its previous years, this online event offered valuable insights into the obstacles and opportunities facing apartment building owners/managers at this unique (and challenging) moment in time.
There was a lot to soak in over the week-long conference. I've spent a lot of time since the show brainstorming how SuiteSpot's turnovers and facilities management platform can tackle the many issues that came to light.
Here are my top Apartmentalize sessions and key takeaways from each one:
1. Work Orders in a Remote World: Real-time Project Management
Day-to-day property management operations have been far from "normal" since March. If one thing rang clear in this online roundtable, it's that property stakeholders have been turning to technology for relief.
"We're really relying on our maintenance software platforms now more than ever," offered Nick Hecox, Director of Maintenance with AI Angelo Company, noting that in addition to boosting team collaboration and efficiency, "the real value with going digital is the ability to see the data in ways we couldn't before. It's reduced our time spent auditing, and the metrics are amazing."
Hecox was joined by Alex Cuenca, Director of Asset Performance with Maxus Properties, and Carrie Caudill, Vice President of Asset Management with Sequoia Equities, who both spoke to various ways their teams are integrating real-time technology tools into their current operations. These included using mobile apps to standardize and streamline the work order process, conduct virtual site visits, and stay in real-time communication with residents, teammates, and vendors throughout the inspections, work orders and make ready processes.
Having designed the SuiteSpot platform and mobile app with these very same capabilities, we were pleased to see how these technologies have helped multifamily housing (MFH) teams balance the need for more efficient and connected operations against the demand for heightened staff and resident safety.
2. Leveraging Innovation: Maximize Your Value-add Investments
COVID-19 has forced many property management teams to hit pause on their renovation plans. According to stats from this informative session, the US property management community saw a 50% drop in total assets under renovation alone. This has driven asset stakeholders to explore new processes and tools that can keep renovation programs viable amid current economic and logistic challenges.
The session featured perspectives from Michael Duffey, Director of Portfolio Investments with Balfour Beatty Communities; Greg Slang, Vice President of Asset Management with KETTLER; John Kozlarek, Vice President of Capital Projects and Renovations with Bainbridge; and Tracy Saffos, Asset Optimization Industry Principal with RealPage. Collectively, they shared how they have adapted their renovation programs throughout COVID-19.
"A lot of it comes down to volume and velocity," said Kozlarek. "How many can you do and how quickly can you get them back online? [Are we] meeting the budget or not, and are there ways to reduce those costs or increase efficiency, or can we make the units actually nicer for the same amount of money?"
"And, of course, there's the ROI," he added. "Ultimately, are we spending the owner's money wisely and producing an appropriate return?"
Surely, working quickly and at high volumes is important. So, too, is having real-time data at the ready to determine if and when budgets are being strained. These capabilities rely on technologies that can help project leads oversee projects in real-time and leverage data to both maximize their payback periods and return on investment. Here again, I was encouraged to see that many of the same turnovers and renovations project management tools and data analytics capabilities we champion at SuiteSpot are playing a greater role in optimizing these programs.
After all, as Saffos noted, "Renovations are a risky business. However, we've learned that with careful planning, execution, adjustments, and analysis, you too can make your value-add renovation, capital work for you every day."
3. "Should" — The Most Dangerous Word in Maintenance
This compelling session, led by Paul Rhodes, Director Maintenance Operations with The Life Properties, and Chris Lincoln, Regional Maintenance Manager with Greystar, took an honest look at several common assumptions about asset maintenance operations, which place unrealistic expectations on property teams.
The problem, said Rhodes and Lincoln, is that it is not enough to say maintenance teams "should" be able to resolve 10-15 service requests a day, or that a maintenance crew "should" be able to turn an apartment within three days. Before such expectations are set, property management leaders need to ensure maintenance teams have the people, resources, and technologies to do what's being asked of them.
Another risky "should" statement from this session was "Technology platforms should help our maintenance teams be more efficient." Of course, we believe wholeheartedly in the idea that technology can greatly enhance the productivity and value of the asset maintenance function. Like Rhodes and Lincoln, however, we know that it takes more than good intentions and a faith in technology to extract full ROI from a new mobile app or technology platform.
"There are seasoned maintenance professionals in the industry today that just refuse to adapt to technology … so you have to ask, How are you rolling this technology out?" said Lincoln. "Are you launching this new platform, giving everybody a deadline for a new task on a new platform, and just saying, 'Hey, sink or swim?" … that build up the resentment, and a failure to get the buy-in of the maintenance teams and can actually be counterproductive to your teams."
Interestingly, I had the chance to ask the presenters what their biggest frictions in maintenance were today. One of the answers was the challenge of managing expectations, while others included a lack of communication and simply not feeling valued in their critical role. Like many of the event's sessions, this provided keen insight into the maintenance function and its biggest stressors.
4. Technology and a Return to Normalcy: What's Disrupting Real Estate?
In this session, moderator Denise Froemming, CEO of the Institute of Real Estate Management, led a discussion about the effects of Covid-19 on the industry and what the future has in store. She was joined by Sean Miller, president of PointCentral, and James Scott of the MIT Real Estate Innovation Lab.
The panelists discussed some unsurprising innovations coming from the pandemic, such as touchless entries, lease payments, and "wellness amenities" like air purification. What was more unexpected was the assertion that property operations, often a late-adopting industry, was now actively employing new technology as a base to build upon.
To quote Scott: "I'd also say that, while COVID has been so difficult for everyone, it has been a really brilliant point in time for real estate technology because it has accelerated the adoption of a lot of these technologies."
Miller pointed out that the sheer volume of tech products and platforms can be overwhelming, so it's important to have a plan of attack to help make tech adoption manageable and to prove worth to investors. He advocated for "bite-sized projects and moving yourself forward."
Miller expanded on this idea by talking about partnership: "When you're looking for a partner it's so important to do your due diligence -- just doing that little bit of work, figuring out…[if your vendor is] going to be there when things go a bit wrong or not exactly as we thought. And with that, I think people are going to really get the benefits of technology."
Of course, at SuiteSpot, we believe that partnership is every bit as important as the bells and whistles of a platform. Tech is crucial, but it must be implemented and adopted successfully in order to make a business better. Your partner should be there every step of the way.
5. How Technology Impacts the Asset Manager and Operator Relationship
This panel focused on the ways that tech is improving relationships and communication between operators and asset managers, thanks to increased transparency and visibility.
Michelle Betchner-Cowan of Greystar pointed out that tech allows every member of an organization to really concentrate on their strengths. For example, owner-operators are migrating away from managing assets themselves because they can leverage the technology and assets of providers like Greystar and other fee managers that have integrated these capabilities in their organizations.
Betchner-Cowan said, "Instead of having to try to manage the assets and really try to figure out how to move all of those different items, they can now focus on their core competency, which is acquiring assets or creating value for their investors or developing assets."
In the Q&A session, an audience member asked about ways to push senior leadership to upgrade technology away from spreadsheets and binders. Rizzo said that she believes tech is crucial for a view of your portfolio, which in turn is crucial in terms of improving your business. She said, "By having that visibility and being able to use web-based products and technology, it saves time and saves money -- and so that investment is absolutely critical and will pay for itself over and over again."
When Rizzo asked how she was thinking about technology, given the current state of the world, she said that she was definitely thinking about things differently for 2021. Instead of spending money to generate ROI as she would have done before, now she feels it's most important to ensure everyone is empowered to do their job well.
"It's a different focus this year, maybe a little less value-add, and more of an improvement in communication and delivering better service overall," Rizzo said. "We've got to keep that edge and stay a little bit more competitive this year. The market is certainly not going to help us."
As we say over and over again at SuiteSpot, before you add any other bells and whistles, you should be sure to have your turnovers, turnovers, inspections and maintenance, down to a science. That's become even more crucial as residents spend more and more time at home, thanks to the pandemic.
I really enjoyed every session I attended at Virtual Apartmentalize 2020. It was a great opportunity for learning and reinforced that trends that otherwise would expand to 10 years have happened almost overnight. My impression going in that 2021 will be all about a touchless environment, automation of the predictable with the agility required to handle the variance. Delivering insights to all stakeholders making sure everyone is on the same page, at the same book, without needing to force people in the same room. Letting technology facilitate the "communication" we all need and lack, while letting people focus on their day-to-day tasks at their highest productivity.
The success of technology adoption should be looked through the prism of "hiring" technology to enable jobs to be done better and faster vs "buying" a technology. You must know who will be using the technology, how they will use it and in what jobs. Then, be sure your technology successfully addresses all of their needs.